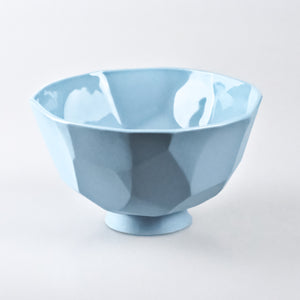 Polli footed bowl
Sale price Price €35,00 Regular price Unit price / per
Tax included.
Inspiration
I love unique qualities of fine porcelain, pure Japanese design, organic forms and 3D modeling of 90s video games. Tactile feel of the unglazed fine porcelain is a unique quality. This natural sensation makes you want to touch and hold the pieces, creating a closer, intimate connection compared to shiny, glazed cups and bowls.
The process
Each Polli is handmade of stain colored porcelain. The bowls are slipcasted, smoothed and fired first at 980°C. Then a clear glossy glaze is applied to the interior, followed by the second firing to 1240°C for full vitrification. The unglazed exterior is sanded after firing to achieve it's unique smooth, but natural surface. The pieces are lead free, food safe, can be easily cleaned in the dishwasher and used in the microwave.


Dimensions: diameter 16 cm, height 9 cm, volume 500ml (750 ml to rim).
Materials: fine porcelain, clear glaze. 
100% handmade in Hungary
Each piece is made to order, manufacturing takes 2 to 4 weeks.